Animal Reiki Classes
Reiki One and Basic Animal Reiki Training (Shoden)
"I took the Animal Reiki class offered by Michelle Kyle. It was my first experience with Reiki on either animals or people. I found Michelle to be an enthusiastic and knowledgeable teacher. I enjoyed the 2 day class experience. I would recommend this course for anyone who would like to learn about Reiki with animals." – Holly R., St. Marys, Ontario
"Michelle is an engaging, warm and enthusiastic teacher. She has a vast amount of knowledge in the different types of Reiki and was eager to share her insights and opinions with us. I signed up for the class to help support my sick cat, Kiwi. Little did I understand how much Reiki would also help me as Kiwi transitioned to her next journey. I would highly recommend the class and have already signed up for Level 2 Reiki with Michelle. Kindest regards." – Hilary Purvis, New Hamburg, Ontario
"Michelle is a knowledgeable, respectful and fun instructor. The Level One course conducted over two full days introduced us to Reiki, gave us ample opportunity to practice on her cats and on each other, and clear instruction to practice at home. I feel well qualified and inspired to keep on practicing, and offering Reiki to others (people and animals), to grow in my ability and knowledge and will continue with Michelle for Level Two certification." – Maureen Argon, Stratford, Ontario
"Thank you to Michelle Kyle at Purr Healing for an amazing two days. The Shoden Level 1 class was enlightening, energizing, and healing. I am looking forward to continuing my daily practice, and to Level 2 in June." – Joanne Nimigan, Paris, Ontario
"I signed up for an animal reiki class, because I wanted to learn the skills to help heal emotionally distressed animals. Ever since I was young, suffering animals have had a deep impact on my life. I could always connect to the ones that seemed to have a real story to tell. I would connect with them through silence and stillness, through my mind and through my heart. I never heard of reiki until I stumbled upon Michelle's stand at the Listowel Holistic Fair. From hearing her speak a little bit about it, I knew it was for me. In the Shoden Level 1 class, one of the first things I learned is that reiki is as much about healing ones own self as others. I realized that by focusing on the healing of others, I was trying to fix my own brokenness. But when I'm with an animal, they heal me in a way that only they can, so who's giving who the reiki? Michelle provided a positive and peaceful environment to learn and practice reiki in. She taught me that reiki is all around, you just need to open yourself up to it. The most valuable thing I learned was the five precepts: Just for today… Do not anger. Do not worry. Be humble. Be honest in your work. Be compassionate to yourself and others."
– Patrick Martin, Wellesley, Ontario
"Amazing Animal Reiki course. Michelle has a heart of Gold. It shows in her teaching." – Donna Stephens Coughlan, Owner at Allies for Alley Catz Animal Rescue, Kincardine, Ontario
"Thank you for a wonderful class. I found you to be quite professional, knowledgeable and passionate about Animal Reiki, and I look forward to learning level 2 with you." – Rosanne, Brussels, Ontario
"Michelle provides an engaging, fun and relaxing learning environment. She is flexible and adjusts her teaching to the level of the student. I thoroughly enjoyed how she organized her time equally between instruction and practicing Reiki. I left the workshop feeling confident, encouraged and peaceful. Thank You so much Michelle!" – Virginia Bowman, Listowel, Ontario
"I took Michelle's level 1 Animal Reiki class. I found it a very enlightening and soothing experience. I not only learned how to treat the animals around me, but also learned the benefit it has on the one performing Reiki. I would suggest Michelle to everyone. Thank you for a wonderful, eye opening experience." – Brittany Edgar, Harriston, Ontario
"I recently finished my level one with Michelle, and could not be happier! She is a wonderful teacher and I feel very fortunate to have been her student. I would recommend in a heartbeat!" – Lindsay Dixon, Stratford, Ontario
"I just finished my level one Animal Reiki. I learned so much. Michelle is so understanding. The way Michelle teaches is very easy to learn. Her love for what she teaches comes through in every way. Thank you for sharing your Reiki with me. Can't wait to do my level 2." – Joanne Travis Mabee, Tottenham, Ontario
"I just finished my level one Animal Reiki class with Michelle and found it to be an exceptionally good class! The class was held in a natural, retreat-like setting with Michelle's lovingly cared for animals. We received instruction, demonstrations, a whole booklet for Level I Reiki, handouts and lots of practice. Highly recommended class!!" – Theresa Joseph, Willseyville, New York, USA
"I was in the same class as Theresa, and it was truly an amazing experience. I'm still feeling the effects of two days of learning and practicing and connecting with other beings." – Barbara Ogglesby, London, Ontario
"Just completed Purr Healing's Level I Reiki class. As someone who knew next to nothing about Reiki, I found the class fascinating and eye opening and something that will definitely deepen my own meditation practice, as well as guide me to better help the animals in my care. Michelle is a calm, gentle and patient teacher, and the environment of learning new skills while surrounded by Michelle's household of animals was inspiring. In addition to all that, Michelle continues to donate a good portion of her earnings to worthy animal charities. What could be better than that?!" – Cheryl Simpson, founder of Feline Friends Network, Stratford, Ontario
Reiki Two and Animal Reiki Training (Okuden)
"The level 2 Reiki classes were great! They opened me up to a new way of experiencing Reiki and I enjoyed them very much. My previous experience was of 'doing' Reiki but the style of Reiki that Michelle teaches is more about 'being'. The switch in perspective was profound. The way in which one practices Reiki with animals was eye opening as well. Instead of 'giving' them Reiki, being open with the energy and letting them come to me is a more respectful approach and honours the animal's right to choose. Michelle's cats are wonderful teachers. I would recommend Michelle's classes to anyone. Her love & respect for animals and for this style of Reiki is very apparent in her teachings. The trip to Wallace Springs Eco Centre was fun as well. It was a pleasure practicing Reiki with the various farm animals." – Sandra Charlebois, London, Ontario
"I very much enjoyed Michelle's method of teaching Reiki 2. Letting the animals come to you for treatment is a whole new way of working for me, and it makes so much more sense. It is so gentle working this way. Michelle's cats are great teachers – so many various personalities. One you thought would be open to a treatment might just wander away, and perhaps someone else would take his/her place. I learned a lot once I got my own thoughts out of the way. The second class at Wallace Springs Eco Centre gave us an opportunity to work with goats, chickens, pigs and cows. This was a new experience for me and I wasn't sure how the animals would react. The pigs moved around a bit until they got used to me being in the barn and then they just settled down. And the same with the goats. Two of the three cows were quite curious and watched for a while, then wandered off. When I felt the treatment was over the same two cows came forward again, and one headed for the barn. This was confirmation from them that yes, the treatment was over. If anyone is interested in using Reiki to work with animals, I would suggest Michelle for your teacher. Her classes are very well organized, and she has a lot of tools that complement the lessons." – Ruby Warren-Robinson, Alvinston, Ontario
"First of all, I absolutely loved having the course in the little Bunkie! I thought it was a great space with trees all around. And it is the perfect size, everyone fit no problem. A few years ago for the 1st level, being in the house, I found sometimes the cats were distracting and my allergies and asthma really flared up. So great idea to move the course out there!
I also enjoyed being out at the wildlife rehabilitation centre. I was mildly disappointed in not being able to get closer to some of the animals but I can completely understand why. It was nice being able to offer Reiki to different wildlife.
This Reiki course came at the perfect time for me … so thank you. I haven't been practicing all that much Reiki lately, I've had a lot of stress the last year and especially the last few months. In April this year my partner had a heart transplant; he still needs a kidney transplant in the coming months. So there has been a lot going on with that. This course was just what I needed to help me reconnect with my Reiki and healing path, so thank you." – Monica Pflug, Kitchener, Ontario
"Michelle provided great learning experiences. If a question was asked and she didn't have the answer, she researched and found the answer before the next class. Her cats were delightful to work with and have patience with learners. Practicing Reiki at Salthaven Wildlife Rehabilitation and Education Centre was an amazing experience that I will not forget." – Sheila Murphy, Owen Sound, Ontario
"I have an Animal Rescue and have my second level in Animal Reiki from Michelle Kyle. Level one and two have made such a difference to my rescue and in my life in general. My first day of Level two I knew would be even more amazing. We have hands on with the beautiful cats and chickens. Michelle has a way of teaching that's easy to understand and practice. Our trip to Frog Hollow farm was a true turning point for me. My overall experience there was so amazing. Thank you Michelle for your teachings and how much you are there for your students. Not only do I do the Reiki but I live by Reiki everyday and it's helped my fybromyalgia so much, with self care. My two sick kittens, rescues, benefit by Animal Reiki so much. These courses are a treasure. If you've ever thought of possibly taking your levels with Michelle, do it. You will see your life change for the better, mine did for sure!!" – Heather Brine, Owner at Candi's Loving Hands Animal Rescue, St. Marys, Ontario
Reiki Three and Animal Reiki Teacher Training (Shinpiden)
"I took the Shinpinden and Animal Reiki Teacher Training with Michelle in September 2016 and it was a wonderful experience! The course material from Animal Reiki Source is fantastic and it has taken my Reiki practice to the next level. I am very impressed as it changed the way I teach Reiki all together!
The Teacher Training with Michelle was fantastic too. Her class structure was very enjoyable, kept us well engaged and we were blessed to have worked with the animals at Bear Creek Animal Sanctuary as well as with her family of animals at Purr Healing! Thank you Michelle for arranging such an incredible experience!"
– Sherri Sim, Regalos Elementales, Urubamba, Peru
Services referred to below are no longer offered, but these testimonials are retained as they show skill in areas complementary to teaching animal reiki.
Services for People
"I received an hour of Reiki treatment from Michelle on July 13, 2014, at her home studio. This was my first experience of Reiki in several years, having only had one other treatment in the past. I felt immediately at ease with Michelle's energy, and felt very safe to relax and explore my inner world as she worked with me. Each part of my body seemed to trigger different feelings and thoughts, and when we got to my knees, an area which is problematic for me, I experienced a release of some blocked or repressed emotion. I was deeply grateful for the acceptance and peace I felt from Michelle, while I sobbed for several minutes, as the energy was given welcome to express itself. I did not feel embarrassed or ashamed to cry. Michelle's calm and loving presence made me feel safe and accepted. When I stopped crying, I felt a deep sense of peace. I feel better since the treatment, and I can't wait to receive more Reiki from Michelle in the future." – Olga Tylman, Toronto, Ontario
"Michelle thank you for your wonderful healing treatments in IET, Reiki and Access Bars. I always feel very relaxed after having a session with you." – Jenni Howes, Reflexologist, Head2Sole, Listowel, Ontario
"I received a Reiki treatment from Michelle of Purr Healing. During the session, I felt warmth, coolness and breezes, and to my surprise, I experienced beautiful visualizations like a series of flowers opening and closing. The Reiki treatment felt very good, and left me with a feeling of well-being, that everything is going to be all right. As a result of the treatment, I feel like I've gone up a notch. I find Michelle to be a warm and caring person, and am happy to recommend her services." – Kathryn Thompson, London, Ontario
"I met Michelle at Listowel's Wellness fair this spring. I was very lucky to acquire a healing Reiki session with her. I'm recovering from surgery. It's been very difficult, a slow, long process. I found Michelle to be a very knowledgeable, caring, loving person with a gentle soul. Her healing session helped relax me considerably. It took away a lot of fears. It gave my body new strength and confidence. I felt like I was in a gentle breeze in pure sunshine. It was so quiet, so peaceful. I felt very fresh and alive. You felt like you were floating on air. I was in a peaceful place with no boundaries or confinements. I was in a loving place with pure love and freedom. With no negative thoughts or any negativity at all. You were one with nature and the universe. You felt comfortable and at peace and you would love to stay. You felt your loved ones present and past gather around with concern to help heal you. You feel God's presence is near. I now have more energy, after my session and some of my pain has disappeared. Thank you Michelle for taking healing to a place of higher level of energy – as I believe she has been given a wondrous gift. Thank you Michelle for sharing with others and animals. Animals are also special in the universe. Thank you MK." – Jean Sanderson Bender, Listowel, Ontario
"I have received two Integrated Energy Therapy treatments from Michelle at Purr Healing. Each time I have relaxed very nicely and I have felt the energy move through me and around me. I find that the IET helps to clear out old energy and thought patterns, thus creating space for new, healthier and more positive energy. This is certainly a treatment that everyone can benefit from experiencing." – Sandra Irwin-Lockie, Reiki Master and Reflexologist, Natural Sunshine Therapy, Listowel, Ontario


"Michelle Kyle has volunteered at Wellspring Cancer Support Stratford since Spring of this year. She provided three Reiki treatments once a week at our facility to those directly affected by cancer. She developed a connection with many of our members who would specifically ask for Michelle when booking in for more appointments. Michelle demonstrated compassion towards the members, always making them feel comfortable with their specific needs. Michelle always came in with a kind and gentle attitude, which was also the way she approached her Reiki sessions. Michelle has done an excellent job providing her services of Reiki at Wellspring Stratford, and I would highly recommend her."
– Lisa Stacey, Manager, Wellspring Stratford, Stratford, Ontario
"I had a facial reflexology treatment for the first time. It was a really pleasant experience – both relaxing and invigorating. I'd recommend it for everyone. Thanks, Michelle!" – Ellen Meyer, Toronto, Ontario
"Through her love of animals and nature, Michelle seems to have a special connection to the healing powers of the natural world. After Reflexology and IET treatments with Michelle, I had a very noticeable improvement to the back pain that I had been experiencing." – Stacy Roth, Milverton, Ontario
"Dear Michelle, Just a few words of thanks for the lovely session I had on May 25, 2018. This spring at the Holistic Health Fair in Listowel I was lucky enough to win a Reiki Session with Michelle. I met Michelle at her home in Monkton, and I found her very warm, caring and knowledgeable. The session felt great. Afterwards, I felt very calm and relaxed. I also had hardly any pain in my ankle, which is usually quite painful. The next few nights, my sleep was much better. I would Highly recommend her. Thank you Michelle." – Love, Ruth Mettler
Services for Animals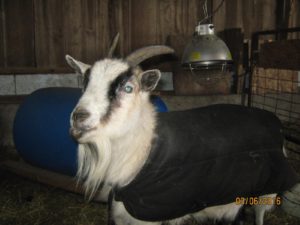 "Michelle's case study on Animal Communication included Dolly, a geriatric pet goat here at Wallace Springs. Through a series of many questions she asked of Dolly, Michelle was able to determine the age and colour of Dolly's new early morning visitor. She was able to draw out from Dolly, a description of some items in her diet that are not typically given to goats and was able to intuit some of Dolly's behaviours that are also not typical of goats. With guidance from the results of Michelle's session with Dolly, I have explored some additional dietary options, found and treated a skin condition, and investigated and treated a health issue related to Dolly's digestive system. Michelle's accuracy rate on her questionnaire for things that were unknown to her was very high, and far exceeded my expectations.
On a separate occasion, Michelle, along with her Reiki students invited me to participate in a Reiki session for our very active and anxious dog, Shiann. Shiann is high strung and has a tendency to act out wildly (vocalizing, jumping up…) when there are unfamiliar people present. About mid way through the session, Shiann became calm and relaxed and laid down for the remainder of the session. We were able to retreat from the session without triggering any more anxiety related behaviours. I was immensely grateful for the peaceful energy Michelle brought with her and for the noticeable calming benefits it brought to the animals here.
Upon meeting Michelle it becomes immediately apparent that she has a deep respect and compassion for animals. I would recommend her for the benefits her intuition and insights can bring for the health and well-being of any animals Michelle becomes involved with."
– Karen Simmons, Wallace Springs Eco Centre, Gowanstown, Ontario
"Michelle Kyle is an effective animal communicator. I told her just a few issues that were happening with my cat. From very limited information, she asked my cat many different questions, which gave me a clear understanding of the emotional state of my cat. Michelle also provided many different ideas of how I can correct my cat's inappropriate behavior. Her compassion for animals, her sincere desire to make animals' lives better, and her gift of animal communication are transparent. I would highly recommend her services." – Carrie Varela, Denver, Colorado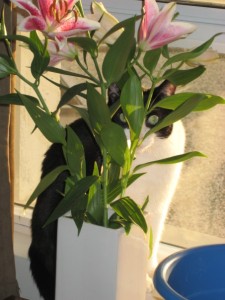 "Michelle was fantastic to work with. She was very professional and patient and she was very brave to work with my cat, Lyric. My cat has struggled with emotional confidence which has led him to be aggressive with strangers. She was able to explain how my kitty was feeling and was able to help him release some of those emotions. It very much helped, letting him calm down and tolerate stressful situations (company, doorbells etc.) better. She gave recommendations on how to work with my cat which is a continuing work in progress but definitely improving. I would highly recommend Michelle for her technique and professionalism."
– Janice Brown, Kitchener-Waterloo, Ontario
"Thanks so much for coming over to the cat shelter again tonight. Tessa absolutely loves sitting with you and today during the Reiki session Quincy crawled on to my lap, at the same time. Peanut seemed to be very interested today! Mocha, Rory and Rooney, Myles and Tyson all enjoy your visits. I had to look twice when I saw Tommy, our semi feral, with his feet wrapped around your boots, playing! It has taken years to get close enough to Tommy to give him a pat when he is drinking or eating, then he runs away. Then to see him sit right beside you later with his back to you was astonishing, he was so close and not worried. I can't thank you enough for volunteering your time to help these animals. We truly appreciate it."
– Kathi Newell-Nicholson, Adopt-a-Pet Pet Rescue, Lucknow, Ontario
"Michelle has talked to many of my animals, from dogs to donkeys. One of my house dogs told Michelle that our house was a bit hairy and that I needed a new vacuum. These are almost the exact words I said to my mom in front of my dog! Our outside dog asked Michelle to ask me what was wrong with the roof. The day before we had a security system installed on our shop and workers were on the roof. My donkey told Michelle he had a sore mouth. I had never seen him having trouble eating but called the vet … good thing, as his teeth were sharp and really needed to be floated (filed level by the vet). Michelle has also talked with a pig and some of my cats. Each time Michelle reported things that were important and specific to each animal. I would highly recommend using Michelle to talk to your animal to hear what is important to them and to help solve behavior issues." – Joanne Gilbertson, Lethbridge, Alberta