Animal Reiki Classes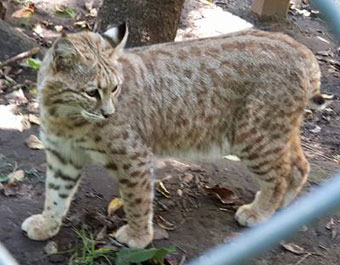 Animal Reiki is a gentle and non-invasive practice in which animals control the amount of healing energy that they receive. Treatment is given from a short distance away, and is only hands-on if the animal places his or her body into the practitioner's hands. Reiki relieves stress and supports healing for all animals including pets, farm animals, shelter animals, feral cats, wild animals, injured animals and traumatized animals. For healthy animals, Reiki helps maintain their health, enhances relaxation and provides emotional peace. For ill animals, Reiki complements all veterinary and holistic treatments, can speed up recovery with less pain, and reduces the side effects of chemotherapy. For dying animals, Reiki provides relief from pain and anxiety, easing the transition for both the animal and the animal's people.
The bobcat in the photo is Bob, who lives at Bear Creek Exotic Wildlife Sanctuary, where Michelle teaches Level 3 classes.
Reiki One and Basic Animal Reiki Training (Shoden)
This class is for people who want to deepen their relationships with animals and learn practical ways to heal the animals in their lives. It is suitable for Reiki practitioners of all levels, and beginners. Topics include the system of Reiki, Shoden techniques, meditations for animals, self-healing, hand positions to treat people, healing treatments and treatment guidelines for animals.
November 4 and 5, 2017
9:30 am – 5:00 pm
Monkton, Ontario
$280 per student. 25% of proceeds donated to Feline Friends Network, Stratford, ON
---
Reiki Two and Advanced Animal Reiki Training (Okuden)
This class is for people who have completed Level 1 (or more) Reiki and wish to deepen their personal healing path with Reiki and animals. Topics include the system of Reiki, Okuden techniques, meditations for animals, healing treatments, treatment guidelines for animals, symbols and mantras and their use with animals, and professional Animal Reiki considerations.
2018, TBA
9:30 am – 5:00 pm
Kincardine, Ontario
$400 per student. 25% of proceeds donated to Allies for Alley Catz, Kincardine, ON.
---
Reiki Three and Animal Reiki Teacher Training (Shinpiden)
This class is for Level 2 Reiki Practitioners who would like to teach Animal Reiki, and Level 3 Practitioners and Teachers who would like to deepen their knowledge and/or add Animal Reiki to their curriculum. It includes discussion and practice in the traditional Japanese treatments for Levels 1, 2 and 3, reviewing the first 3 symbols and mantras, learning the 4th symbol and mantra, Shinpiden techniques, Reiki Master initiations and Reiju, instruction and practice performing initiations and Reiju, discussing the Animal Reiki Practitioner Code of Ethics and creating successful lesson plans.
TBA
---
Teacher Michelle Kyle trained under Kathleen Prasad of Animal Reiki Source, the founder of the Animal Reiki movement in North America. Michelle completed Reiki Two and Reiki Animal Training Advanced Techniques at BrightHaven animal hospice in California, where the normal lifespan of cats is late 20s and one cat was 36 years old. She completed teacher training at The CARE Foundation wildlife sanctuary in Florida, where she worked mostly with big cats, including tigers, a black leopard and a panther. Human Reiki portions of these classes are based on traditional Japanese Reiki teachings, as taught by Frans Stiene of the International House of Reiki. Michelle's classes follow traditional Japanese teachings and principles of Kathleen and Frans. Therefore, Level One is a full two days, including four attunements. Level Two is a full two days, including three attunements. Level Three is a full three days, including one attunement. Recommended time between levels to integrate learning is three months or more between levels one and two, and six months or more between levels two and three. This timing is not enforced; it is suggested. Classes include Animal Reiki Source class manuals and certificates.
Classes in Monkton (Level 1, and Day 1 of Levels 2 and 3) are held in a Bunkie studio in a small forest, providing students the benefits of Forest Bathing, a recognized relaxation and stress management activity in Japan. At this location, students can share Reiki with each other, cats, chickens, fish, and trees.