About Animal Reiki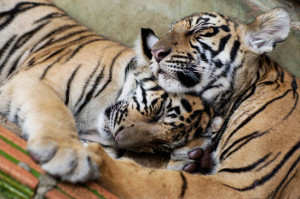 Animal Reiki is a gentle and non-invasive practice in which animals control the amount of healing energy that they receive. Treatment is given from a short distance away, and is only hands-on if the animal places his or her body into the practitioner's hands. Reiki relieves stress and supports healing for all animals including pets, farm animals, shelter animals, feral cats, wild animals, injured animals and traumatized animals.
For healthy animals, Reiki helps maintain their health, enhances relaxation and provides emotional peace. For ill animals, Reiki complements all veterinary and holistic treatments, can speed up recovery with less pain, and reduces the side effects of chemotherapy. For dying animals, Reiki provides relief from pain and anxiety, easing the transition for both the animal and the animal's people.
Other animals near the animal being offered the treatment may also choose to receive Reiki. Animals often go into a "Reiki nap" during treatment. It is not unusual to see all the animals napping during a session. Recommended treatment to really see results involves beginning with four sessions on consecutive days, to be scheduled at mutually convenient times. Otherwise, four weekly sessions in consecutive weeks are recommended.
Michelle Kyle trained under Kathleen Prasad, the founder of the Animal Reiki movement in North America. She completed Reiki Two and Reiki Animal Training Advanced Techniques at BrightHaven animal hospice in California, where the normal lifespan of cats is late 20s and one cat was 36 years old. She completed Reiki Three teacher training at The CARE Foundation wildlife sanctuary in Florida. At CARE, she shared Reiki with wild animals including tigers, black leopards, a cougar, and a panther.
Michelle's Animal Reiki Lineage
A Reiki lineage is a family tree showing the energetic connection from the founder of the system of Reiki through to your practitioner or teacher. The branch is named at the top, with the lineage listed underneath. Michelle's lineage for Animal Reiki is on the right.

USUI REIKI RYOHO
Usui Mikao
Founder of the System
|
Kanichi Taketomi
3rd President of the Usui Reiki Ryoho Gakkai
|
Koyama Kimiko
6th President of the Usui Reiki Ryoho Gakkai
|
Doi Hiroshi
Current Member of the Usui Reiki Ryoho Gakkai
|
Frans Stiene
|
Kathleen Prasad
|
Michelle Kyle
---
Animal Reiki Videos