These are photos from 2014 to 2020 when Michelle taught animal reiki, including human reiki, based on traditional Japanese reiki in the Usui Reiki Ryoho lineage, using the method of Kathleen Prasad of Animal Reiki Source with animals and the method of Frans Stiene of International House of Reiki with people.
World Animal Reiki Day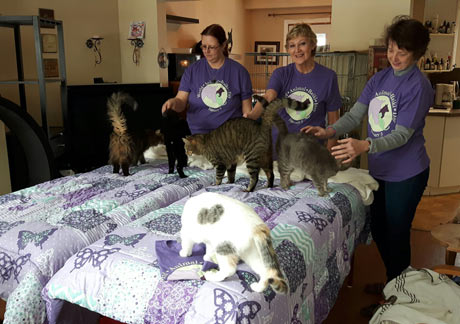 February 5, 2017. Six of us met at Allies for Alley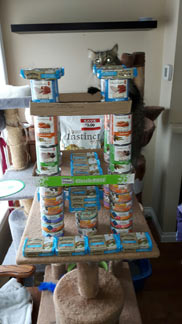 Catz animal rescue in Kincardine, Ontario founded by Donna Coughlan. We shared a pot-luck lunch and a traditional Japanese Reiju spiritual blessing, shared Reiki with the animals and each other, and donated a tower of cat food to the rescue.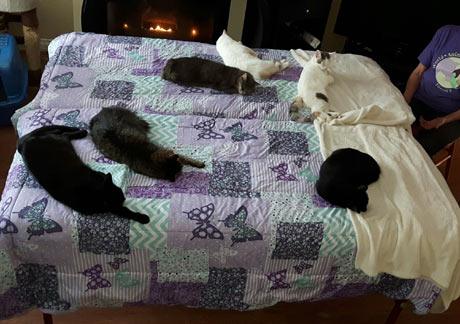 The house is well organized with cats with similar ages and needs in their own rooms on different floors, some cats in heated enclosures outside, and dogs in the yard during our visit. We took turns visiting animals in their different locations and offering reiki. All felines, from active kittens to sedate seniors, responded well to reiki and relaxed into reiki naps.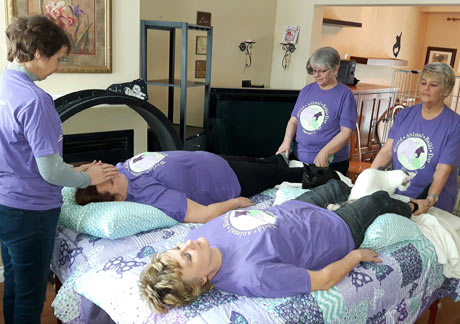 We also shared reiki with each other. Human caretakers of animals need care too! After a snowy drive, a vegetarian pot-luck lunch, and sharing reiki with animals, it felt wonderful to lie on soft quilts in front of the fireplace, hear inspiring music, and receive reiki. The cats were keen to participate in all reiki sessions, including those for humans, lying between and on top of the reclining humans.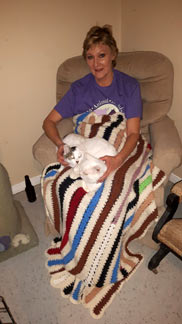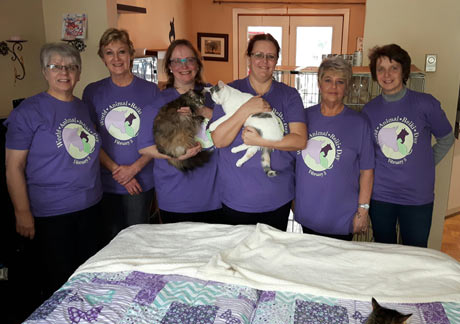 Donna sat with two FIV positive kitties. Mary Jane, Donna, Michelle, Virginia, Heather, Jill, and some friendly cats. On this snowy February day, we appreciated everyone making the effort to drive in winter road conditions from Listowel, Monkton, Stratford, and London. It was a wonderful day with like-minded friends.
---
Animal Reiki Retreat at Bear Creek 2017
April 1, 2017. Julie, John and Michelle shared Reiki with the exotic wildlife of Bear Creek Exotic Wildlife Sanctuary and an injured person, meditation, Reiju, and a vegetarian pot-luck lunch, and learned a lot from Mary of Bear Creek about the animals and the care they receive.
| | | |
| --- | --- | --- |
| Bob the bobcat | Black bear Baloo | Burt the emu |
| A sweet tiger | Tiwi the wallaby | Julie, Mary, and Michelle |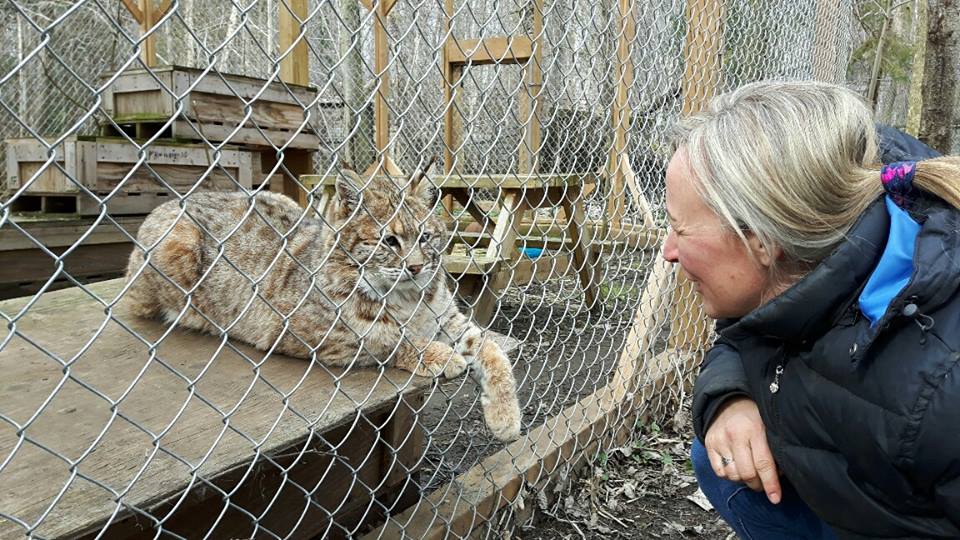 ---
Reiki Workshop for Animal Reiki Practitioners
July 30, 2017. A one-day experiential Reiki workshop, learning traditional Japanese Reiki information and techniques taught by Frans Stiene of the International House of Reiki. Kotodama: Chant the precepts in Japanese and experience the energy of their sounds. Form and no form, seiza with a meditation bench, Koki Ho, Gyoshi Ho, Nentatsu Ho.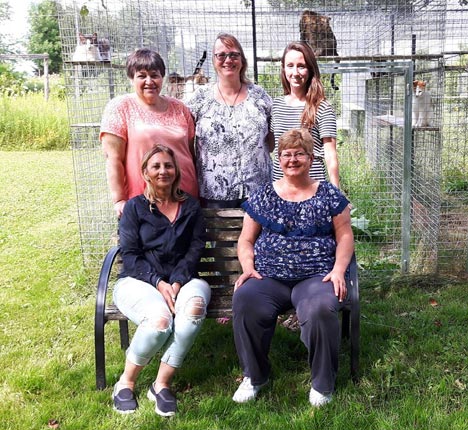 Sheila, Michelle, Nicole, Shireen and Angie enjoyed a great day learning and practicing new reiki techniques. Nicole said, "Amazing day with beautiful ladies. Thank you so much!"
World Animal Reiki Day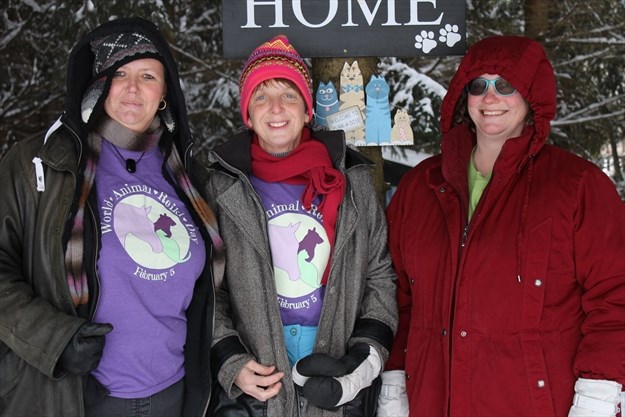 Feb. 5, 2018. Virginia Bowman of Soul Paws, our Level 3 graduate, organized an event to share reiki with the feral cats and their volunteers at The Village in Listowel, Ontario. Virginia, Jill and Michelle braved the cold weather to do an outdoor session at the cat colony, then Virginia led a group meditation for about a dozen volunteers, followed by a pot-luck supper. Here is an article about this event in the Listowel Banner, Village cat care volunteers host World Animal Reiki Day Celebration.
Animal Reiki Retreat at Bear Creek 2018
June 22, 2018. Hermien, Michelle, Virginia, Jill, Caroll and Julie, pictured here between Mary and Mary of Bear Creek, shared Reiki with the Bear Creek animals and an excellent vegetarian pot-luck lunch, and had a wonderful day.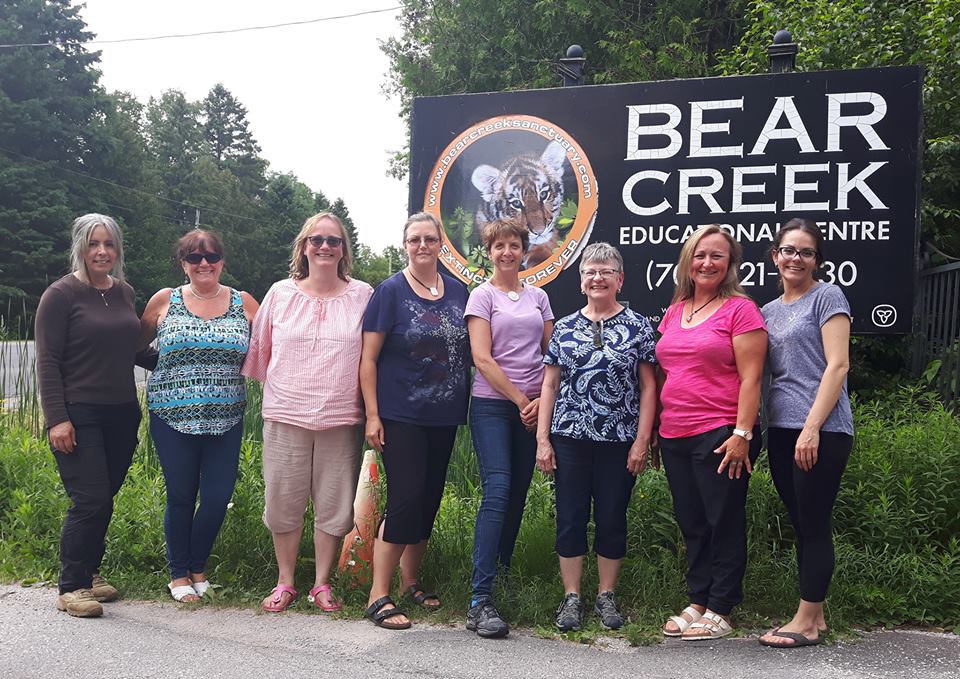 Animal Reiki Retreat at Bear Creek 2019
June 7, 2019. Julie, Michelle, Mary, Jane, Terri, and Mary. Another wonderful day!