Animal Reiki Retreat at Bear Creek on June 7, 2019
$52.00
The deposit is $50, or $52 through this page to cover the PayPal fee.
Description
Third Annual Animal Reiki Retreat at Bear Creek Exotic Wildlife Sanctuary
Friday, June 7, 2019, 10:00 am to 5:30 pm
This retreat near Barrie, Ontario is open to all graduates of Purr Healing Animal Reiki classes. Mary Barros of Bear Creek has confirmed that she has reserved the date for us. We have chosen a Friday so that our quiet sessions with the animals are not disturbed by weekend public tours. Please plan to bring your own camping chair and a contribution to the vegetarian pot-luck lunch. Bring what you need to spend the day comfortably outdoors – clothing in layers, a hat, sunscreen, bug spray, umbrella (if rain is expected), etc.
Those who wish to stay are invited (1) to go out for dinner in Barrie afterwards, and (2) if interested, to stay overnight in Barrie and participate in more activities on June 8: visit Luther Marsh wildlife management area in the morning until 1 pm, and then enjoy the Savour the Flavours food tour in Orangeville from 2-4 pm.
The Bear Creek location can be hard to find, with more than one road with the same name which can take you in the wrong direction, so please leave early enough that you can sort it out and arrive in time. We are starting at 10 am to give everyone extra morning travel time. If you haven't been there yet and you can get there before the day of the event and mark the location on your GPS, I recommend doing this. The address is:
8633 10th Line of Essa Township, RR 2
Barrie, ON L4M 4S4
(705) 721-4730
Here is a photo of our group at our 2018 retreat: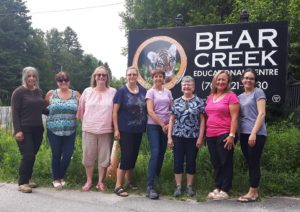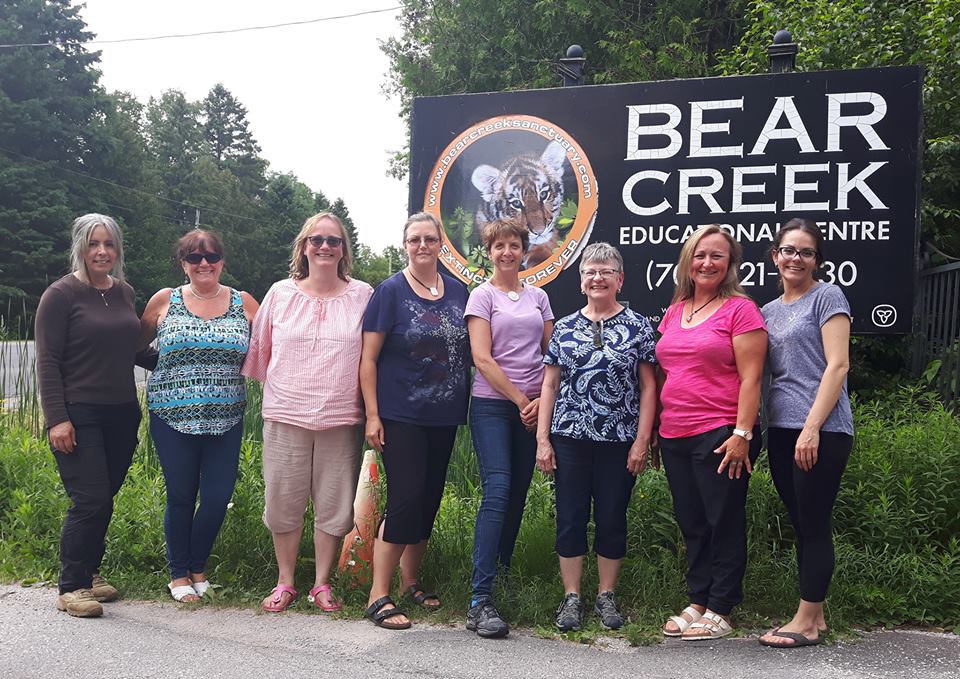 The total cost of the June 7 retreat is $100 per participant, of which half is donated to Bear Creek. If you intend to participate, please register by informing me and paying the deposit as soon as possible. You can pay through this page ($52 to cover the PayPal fee), or eTransfer $50 to michellekyle@gmail.com. Thank you!
The remainder of $50 is payable in cash to Mary of Bear Creek on the day of the event. I look forward to sharing this day with you and and the wonderful Bear Creek animals!
Michelle Kyle